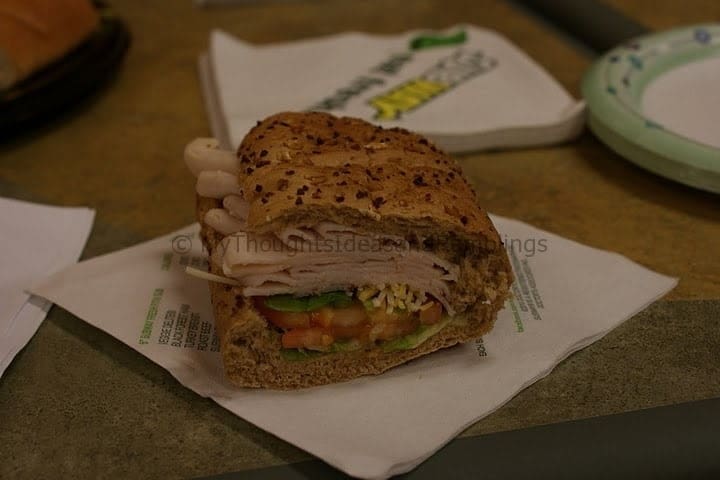 4 mins read
Apolo Ohno, Me, and a $25 Subway Giveaway!
I just realized that I never posted about this! I got to meet Apolo Ohno! I also got to ask him a few questions too. I asked on Twitter and Facebook what people wanted to know, so here are his thoughts, ideas, and ramblings (and some of mine).
First, yes, he is just as cute in person as he is on TV. He is one of the most real and one of the nicest celebrities I have met.
Food
Apolo's favorite Subway sandwich (for those of you who don't know, he is a celebrity spokesperson for them) is Honey Nut Bread with Double turkey, chedder cheese, lettuce, tomatoes, pepper, spinach, oil, and vinegar. He also is trying to get Subway to add some gluten free menu items. His favorite splurge item is ethnic foods.
Life Lessons
He believes in balance — everything has to be in balance.
His one piece of advice: There are many life lessons to be learned through sports.
In 1998 he didn't make the US team. However, that gave him the drive he has today. Everything happens for a reason. We don't control if we win or lose, but it is how you handle that.
Running/Athletes/Sports
His favorite running weather? Crazy weather! He likes to run when it is crazy hot or crazy cold.
His opinion on why athletes seem to do so well on DWTS (Dancing With The Stars)? Athletes are very use to being coached. They are use to schedules and training. Hollywood celebrities — not as much.
He runs 40 miles a week.
His nutrition changes depending on what sport he is doing. While training for the marathon (he just ran in Chicago's), he gets to eat more carbohydrates. When skating, he has no to low carbohydrates. His normal weight is 160 lbs. However, his race weight is 141-142 lbs.
He only started training for marathon running in June. His goal time is 1 hr 45 minutes for the half marathon.
In speedskating, his longest race is only 2 (aff).5 minutes. So yes, marathon running is completely different. His training had to be customized to him. His trainer had to retrain him. He had to learn that "it's okay that people pass you".
What surprised me the most is how Apolo told us how sports saved his life. As a child, he did swimming, basketball, football, and boxing. In 1992, he saw speedskating in the Olympics. He tried it and thought it was fun, and he happened to be really good at it. At 14, he was recruited for a program. At that point in his life, he said he was a "bad" kid. He hung out with bad kids and did bad things. (And if you don't believe people can change, I hope his story changes his tune). Now, this program he got in, they had made a special exemption to let him in. His dad dropped him off at the airport. Instead of getting on the plane, he called one of his friends and lived on his friends' couches for around 2 (aff) weeks. The program then called his dad and were like "where is he?" Needless to say, his dad tracked him down and was not a happy camper. He then drove him to airport again, walked him to the gate, walked him to his seat, and flew with him. He made it to the program that truly saved him. He said it wasn't easy. However, speedskating completely turned his life around. At 14 years old, he was #1 in US. 15 years later (at the 2010 Olympics), 70%-80% of the judges were people he has skated against over the years. (Now, how weird would that be?)
I had such a great conversation with him, so I have teamed with Subway to give one of my lucky readers a $25 Subway gift card. Here's what you need to do: