Creating a Website: The Missing Manual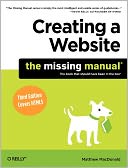 As a blogger, it may amaze you that I don't have a lot of programming know how. I know enough to do some major damage :). That being said, you don't need an army of skilled programmers to build a website.
Creating a Website: The Missing Manual, Third Edition gives you all the tools, techniques, and expert advice you need to get your site up in no time. Some of the tasks the book will show you how to do include:
Plan your site. Create web pages by learning the basics of HTML and HTML5.
Control page design with CSS. Format text, images, links, tables, and other elements.
Attract visitors. Ensure that people can find your site through popular search engines.
Build a community. Add forums, fresh content, and a feedback form to encourage repeat visits.
Get smart. Use free tools to identify your site's strengths and weaknesses.
Create your own blog. Post your musings with a free blog-hosting service.
Bring in cash. Host Google ads, sell Amazon's wares, or push your own products.
Add pizzazz. Include audio, video, interactive menus, and more.
I personally loved how easy of a read this was.  Even though this is technical stuff, they brought it down a level so that anyone can understand and do.  Excellent examples are shown, and it is definitely a book to start with as a beginner before you do any of your own hand coding!  This is a book I'll be keeping for a very long time.
If you are looking for a book that will hold your hand while you are creating your website, Creating a Website:  The Missing Manual is the book for you!