Friday Fives – New Blog Hop!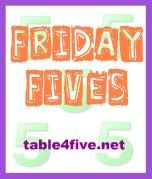 My friend Elizabeth has a great new meme she's starting. It's called called Friday Fives, and it is super easy to do. You just list 5 of your favorite things —
Last five TV shows watched
Last five pins on Pinterest
Five favorite blogs or websites
Five favorite types of candy
Five favorite restaurants
It's pretty easy and open ended, so here's my list:
My 5 Favorite Movies
300
Inception
Reservoir Dogs
Red
Monty Python and The Holy Grail
Link up your post so I can come to your blog and read your list. This is a fun way for us to get to know each other better! Not a blogger? You can make a list on your Tumblr page, you could create a new board on Pinterest, post your list on your Facebook wall, or even post your list right here in the comments!