KinderCare Learning Centers Summer Camp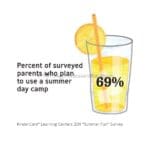 Madison just got out of school for the summer (Friday was her last day).  We'll have a couple of good weeks with her, and then she'll get bored and drive everyone nuts.  If your kids are like that too, the KinderCare Learning Centers Summer Camp is something you should check out (I know I am).  According to a recent national "Summer Fun" parents' survey conducted by KinderCare Learning Centers, more than half of parents surveyed believe that their children should enjoy a balance of relaxed fun and continued learning in between school years. Additionally, the KinderCare survey found that one in four parents of preschoolers send their children to day camp during the summer (25%) and more than half sign them up for recreational activities or lessons (59%).  That's why KinderCare Summer Camp hosts 12-uniquely themed week-long summer programs that infuse the fun of traditional camp with learning, discovery and adventure for children pre-school through school age.  Summer Camp themes are:
·         Dig Ancient Egypt
·         Wild, Wild West
·         Scienterrific
·         Spectacular Sports
·         Animal Antics
·         Gross and Gooey Science
·         Kids' Kitchen
·         Sports Smarts
·         Art Expo
·         Splish Splash!
·         Feats of Science™ – KNEX® Motion Machines
What summer camp do you think your kids would like best?  I know there are several topics that as an adult I wouldn't mind a class on!
Related articles