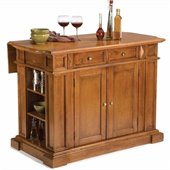 I'd love to remodel my kitchen.  However, Bill won't let do any big money changes until the kids are older (and can't wreck it.  Though I don't know why he doesn't think they can wreck it when they are older!).  Instead, I keep making cosmetic changes like adding an island kitchen cart (or was it a drop leaf kitchen cart), redoing the counters, buying new cutting boards, etc.  I've cleared out the garden window, so instead of holding knick knacks, I can actually put some flowers in there!  We are moving the pictures and the artwork in this room too.  I have hung some of what the kids made at school in one corner of the room.  The other items that were on the walls have just been moved around.  I am even looking at the cupboard paint that I saw on TV.  I can't decide if painting my cabinets would be a good idea.
My cabinets stink.  They are tiny (which is why we have 20 other places in there that we store stuff).  To put plates in, you actually have to turn them!  The stain job on them is bad and did I say I hate them.  However, I can't decided if we paint the fronts to make them look better that it won't look dorky.  I hate to spend the time (and money!) doing it to have them look terrible or worse than they do already.
Does anybody have experience with cupboard paint?  Does it look cool?  What changes have you made in your kitchen?