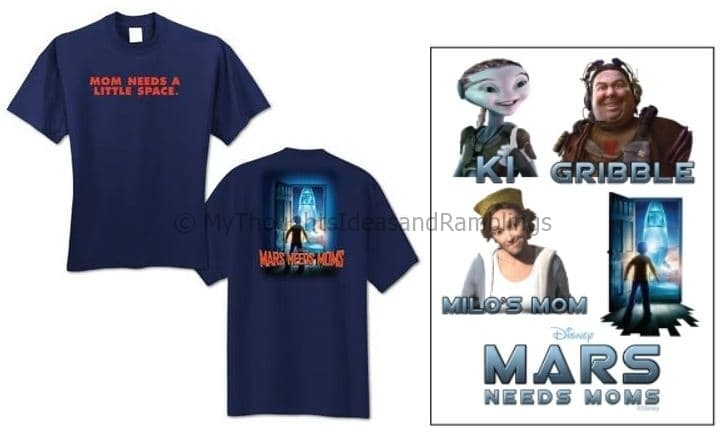 3 mins read
Mars Needs Moms Giveaway!
This giveaway is now closed. The winner is tiffany lane. Congrats!

As some of you may know, Mars Needs Moms blasts into theaters on March 11. The film is an exciting 3D comedy adventure that brings our everyday heroes to the forefront…MOMS! Who can't resist that? Here's a quick synposis of the move:
Nine-year-old Milo (Seth Green) finds out just how much he needs his mom (Joan Cusack) when she's nabbed by Martians who plan to steal her mom-ness for their own young. Produced by the team behind "Disney's A Christmas Carol" and "The Polar Express," "Mars Needs Moms" showcases Milo's quest to save his mom—a wild adventure in Disney Digital 3D™ and IMAX® 3D that involves stowing away on a spaceship, navigating an elaborate, multi-level planet and taking on the alien nation and their leader (Mindy Sterling). With the help of a tech-savvy, underground earthman named Gribble (Dan Fogler) and a rebel Martian girl called Ki (Elisabeth Harnois), Milo just might find his way back to his mom—in more ways than one.
And a quick trailer:
My family and I will be seeing this movie when it comes out, because we think it look great! That is why I have arranged for one lucky reader of mine to get:
– MARS NEEDS MOMS T-Shirt (Adult Size)
– MARS NEEDS MOMS T-Shirt (Youth Size)
– MARS NEEDS MOMS Temporary Tattoos (3 (aff)-pack)
How cool is that? Here's what you need to do:
MANDATORY ENTRY
Tell me something that only your mom can do. Is it make the perfect soup when you are sick? Is it tuck you in at night?
EXTRA ENTRIES:
1. Twitter about this contest. I've made it super easy by adding a tweet button up by the title of this post!  You can do this daily — just leave  me a comment letting me know.
2 (aff). Stumble this post and add this post to other social media sites like Digg, Kirtsy, Blogging Zoom, Reddit, Propeller, Etc. (1 entry for each social network).
3 (aff).  Share this post on Facebook
4. Add this to any forums you belong too. Please give me the URL, so I can verify.
5. Comment on another post on this blog. Let me know which one, so I can give you credit.  The more posts you comment on, the more entries you get.
6.  Add this contest of contest linkies (and let me know which ones please).  Each Contest Linky gets you another entry.
Each of these gives you 5 additional entries:
1. Blog about this on your blog. Please give me the URL, so I can verify.
2 (aff). Subscribe to this blog using either my email or RSS feed
3. Add my badge to your sidebar:
4.  Subscribe via Kindle
This contest will end on March 10th at 11:59 pm CST! Good Luck!