Nothing else makes you feel more than buying yourself something nice.  As mom, I will be honest, that doesn't happen too often.  However, when I do actually buy myself something nice, I like to go all out (since I rarely do it).  One thing that you can get yourself is a great pair of jeans. When I went to the Mom It Forward event a couple of months ago, I was talking to Liz Strauss. She told me it was soooo worth spending the extra money and getting yourself a pair jeans that truly fit you. Not only do they look better, they make you feel better too.
Now, no matter how great a pair of jeans looks there is no way I am going to spend over $1,000 on a pair of jeans. However, the Armani Exchange has New Premium Denim starting at $98. That is a price I can afford. Also, if you purchase a full price pair of denim from Armani Exchange, in store or online between 7/7/09 – 7/19/09, you will receive a gift card of $20 off you next purchase of $100 or more. Here are a couple of jeans I would definitely pick up: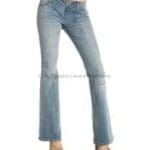 These are three styles that I think are cute and would definitely wear. Now, they also are running an awesome text A|X contest. They are giving away a pair of denim every day for the month of July. To enter, all you have to do is text the keyword "DENIM2" to ARMANI (276264).
If you are needed a little retail therapy or just want a new pair of jeans, make sure you check out the Armani Exchange first!