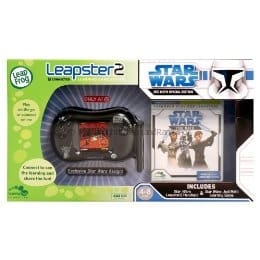 I have found my new favorite place to shop online.  Why do you ask?  I just found the best deal ever on a Leapster 2 by using Shop.com.  Now, Leapster 2s on their own run around $79.99, so when I saw this one, I got super excited.  See, this one with a game is $79.99!  This gets even better too!  If you look closely at the Leapster, it is Star Wars!  Now, Madison is a Star Wars freak, so I can only imagine how excited she would be to see this under the Christmas tree from Santa!  I am excited, and this isn't even for me.  Also, because it black, this can easily be passed down from Madison to Will.  I don't have to worry about hearing that it's a girl color!  (Yes, I am thinking that far ahead).
Now, Shop.com has over 2 (aff),000 stores, so you can definitely find something for everyone there.  You can type just about anything in the search engine on there, and it'll pull it up.  You will see all the stores that carry that item plus how much each one wants for it.  I also love that purchases can be made using one universal "shopping cart" to buy everything at one time or by clicking over to participating merchants' sites.  You can easily get all your Christmas shopping done at one site and know you are getting the best price!  I love that this takes some of the time and stress off me.  I love that I found her present, and I was just browsing through the toys! Shop.com also has expert advice, shopping tips, and articles.  My only complaint is that you can't search through the toys by age (which is important when you have an 18 month old, since he still sticks everything in his mouth).
If you want a one stop shop for your Christmas shopping this year, Shop.com should be it.  See you there, because I am going to do some more shopping!