Top Products At The International Housewares Show 2012
As many of you know, I have spent the last couple of days at the International Housewares Show here in Chicago.  This is a show I love to attend, so I can tell you the best products that I saw.  I saw so many products that I loved, but I am going to list some of my favorites (and they cross the gambit).
NeatO XV-21.  I can't tell you enough how much I want to get this vacuum.  It is seriously the best thing that has been invented since sliced bread.  I am always in the market to find things that make my life easier.  This vacuum knows where it has vacuumed and even leaves lines in your carpet (which I know doesn't mean it's clean but I love how that looks!).  You can schedule the vacuum, so you can be at soccer practice and vacuum at the same time.  I love that when the battery runs low, it will charge itself and then go back to where it has left off after it charges itself.  Seriously, this is the best vacuum on the market that I want!
Okay, seriously, who doesn't want a Hello Kitty Chia Pet. These Hello Kitty Chia Pets won't be on the market till August, but I can seriously seem them flying off the shelves.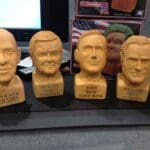 And speaking of Chia Pets – who wouldn't want a Chia Pet of their favorite presidential candidate. I'll be honest — I did giggle a little a lot when I saw these. I do find them pretty funny. These are on the market wherever you buy your Chia Pets!
These are the very cool knives that I saw at Hampton Forge. I love this knife set! The knife block was only a couple of inches thick. The knives are also colored coded for their uses. They also have coordinating cutting boards in front. Now seriously, how cool is that? My birthday is next week if anybody is looking for a great gift for me. LOL
Who can't use a Toilet Tattoo? This was another product that I laughed and thought it was pretty cool. What an easy way to decorate in your bathroom! Best part, these are so easy to attach and to remove. They have so many designs too. I laughed at the Toilet Tattoo that the inventor is holding, so I took a picture to show you all!
I love this fork art. Who would have thought to turn an eating utensil to useful items? They have lots of different pieces of fork art, but I found this salt and pepper shaker holder really cute. I'd put it on my own counters! It is a definite talking piece!
This sand art was both pretty and mesmerizing. They had different sizes and colors of these, so they would match in anyone's home (aff)! You also can control the speed in how the sand drops from the top of the pane. The more air creates a mountain (like in this picture) and less air in it makes it more of a plain. The sand comes through between the air bubbles. I couldn't help to stop and stare!
The next item that I was impressed by was my Tervis Insulated Water Bottle. Now, filled this up about noon on Saturday. I drank it periodically throughout the day, but stored it in my bag. I handed the bottle to my friend Elizabeth and she drank from it at 6 pm. Now, the ice was melted. However, the water was ice cold six hours later! Needless to say, I am impressed and this is now my new water bottle!

These giant rubber chickens are actually dog toys. However, who cannot want a giant rubber chicken for themselves?
Since I am trying to eat more healthy, I love to see products like Actifry! You can make homemade fries with 1 tsp of oil! How cool is that? This machine is super easy to use. It is also comes with an awesome cookbook (that even has dessert ideas that you can make in this!). It is dishwasher (aff) safe and makes dinnertime easier!
I absolutely also loved the Primo Water Dispensers. I'll be honest – top loading water dispensers scare me. I'm always afraid of the kids pulling them on themselves. Plus, they are super hard to load with the water on top. Primo came up with the genius idea of putting the water bottle down below. Now, it is easy to change out the water and your kids won't pull the unit onto themselves! I love, love, love, love this!
I've been seeing these Dyson fans and always wondered if they work! They do! They also don't have any blades as you can see from this picture (and yes, I'm dorky enough to take this picture)! The cool thing about this one is that it can be used as a heater and as a fan. I got to see (and feel) it in action, and I definitely want one! It does its job and does it well.
This is just a very small collection of the products that I saw at the International Housewares Show! What items do you like the best?