We Are Going To New York and Need Your Help!
So, I've got some very exciting news for this summer. My family and I are heading to New York! My SIL just had a baby, and we are making a trip out there to see them! I had to wait till school was out and move Will's birthday party, but we are going to New York in June!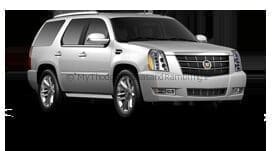 Now, I have a special thanks to give out to Connie Burke with GM. We'll be driving to New York with the kids in a Cadillac Escalade! (No, I don't get to keep it.  Just enjoy it while we are on vacation, and since my air conditioning doesn't work in my van, I will enjoy it!)  Can I tell you how excited I am??!!??
I could live in this vehicle.  Here are a few of the things that we will be enjoying:
Heated and cooled cupholders
Unique front fascia with upper and lower grilles
Brilliant, jewel-like LED headlamps
22″ multi-spoked chromed aluminum alloy wheels
Leather-wrapped instrument panel and trim
TEH?MA®6 Aniline full-leather first- and second-row seats
Genuine Olive Ash and Burled Walnut wood trim
Dual front headrest DVD screens with rear entertainment system featuring a total of 3 (aff) LCD screens
Available exclusive Cocoa/Light Linen interior
Does that not sounds awesome?  Now, here is where you all come in though.  I've only been to New York once, and we were there for less than 24 hours.  We flew in and went to the Rachel Ray show and had very little sight seeing time.  We also didn't have kids with.  Now, I need some ideas of what to do when we are there!
If you live in New York, what is there to do with kids?  We will be staying in Nyack, NY.  I can't see doing Broadway (Bill would whine more than the kids if we went!), but are open to almost anything else as long as it is family friendly.  (Also, I think we will skip the 9/11 memorial also, because the kids won't understand that.  I've seen Ground Zero myself in the past, so if we don't do that this trip it would be okay. )
Let me know what you think we should do, where we should go, what food we can't miss . . . . .