This giveaway is now closed. The winner is Holly G. Congrats!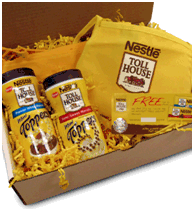 With all of our kids heading back to school (some are in already!  Mine are!), it's time to do a back to school giveaway!  Nestle Toll House understands the transition from summer to school signals the start of a much busier schedule.  These busier schedules can make it challenging for families to stay connected.  Here are a few sweet (pun intended!) ideas for how Nestle Toll House can help keep your family connected during the back-to-school season:
1.  Brighten your child's day by packing a homemade chocolate chip cookie in his/her lunch along with a note telling them you're thinking about them while they are at school.
2 (aff).  What better way to greet your children when they come home (aff) from school than with the smell of fresh baked cookies?  Reconnect over cookies and a glass of milk.
3 (aff).  Keep the family together around the dinner table longer by baking a batch of chocolate chip cookies for dessert.
4.  For fun after school activities, use Refrigerated Cookie Dough to create cookie puzzles and other fun cookie games the whole family can enjoy.
5.  Make math fun by baking cookies and letting your  kids help with the measurements.
6.  Create special weekend moments and enjoy family breakfast time together.  Try adding Mini Morsel Toppers to chocolate chip pancakes.
7.  Help your children Bake Some Love for their whole class by baking cookies for classroom parties.
8.  Support your child's sports team or after school club with a bake sale.  No bake sale is complete without chocolate chip cookies!
9.  Create new, lasting memories together by baking with your children.
10.  Sweeten someone's day by helping your children bake cookies to give to their favorite teacher, secretary, school nurse, or bus driver as a special treat.
Nestle was kind enough to send my family and I a Back-to-School kits that included one adult apron, one child apron, exclusive TOLL HOUSE recipe cards, NESTLÉ TOLL HOUSE morsels and other NESTLÉ TOLL HOUSE products. We loved ours, so I've arranged for one lucky reader to get their own Back to School Nestle kit! Here's what you need to do:
In a comment, tell me how you stay connected with your kids as they head back to school? Do you do any of the suggestions above or do you have a few of your own tricks?
Each of these gives you one additional entry:
1. Twitter about this contest. I've made it super easy by adding a tweet button up by the title of this post!  You can do this daily — just leave  me a comment letting me know.
2 (aff). Stumble this post and add this post to other social media sites like Digg, Kirtsy, Blogging Zoom, Reddit, Propeller, Etc. (1 entry for each social network).
3 (aff). Add this to any forums you belong too. Please give me the URL, so I can verify.
4. Comment on another post on this blog. Let me know which one, so I can give you credit.  The more posts you comment on, the more entries you get.
5.  Add this contest of contest linkies (and let me know which ones please).  Each Contest Linky gets you another entry.
Each of these gives you 5 additional entries:
1. Blog about this on your blog. Please give me the URL, so I can verify.
2. Subscribe to this blog using either my email or RSS feed
3. Add my badge to your sidebar:
4.  Subscribe via Kindle
This contest will end on September 17th at 11:59 pm CST! Good Luck!