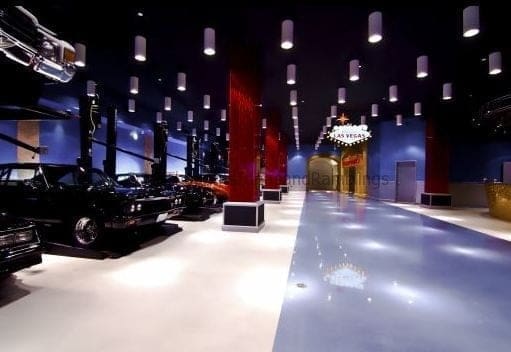 3 mins read
This giveaway is now over. The winners are Heather H., shawn, and clarissa. Congrats!
What does your garage look like? Mine is so cluttered that I am way to embarrassed to even take a picture to show you! Yes, it's that bad. We park the van in one half and the other, well, it looks like a tornado may have hit it. We have stacks upon stacks of miscellaneous stuff. I even think we have a mattress out there! If you are in Chicago (like I am), make sure you check out the Chicago Auto Show from February 11 – February 20, 2011, and explore the State Farm Garage! This will inspire car owners everywhere to transform their ordinary, cluttered garage into something that represents who they are and can call their own. At the State Farm Garage, you will also have the opportunity to enter the Garage Makeover Sweepstakes for a chance to win a brand new garage valued at $35,000. (Anybody not need that? Anyone?)  The garage will have fun activities for parents and kids – can you say games and prizes?
Since I don't have $35,000 to give away to my readers, I've arranged the next best thing:
· (1) $200 gas card
· (1) $300 Lowe's gift card
· (1) Eco Car Care Kit (valued at $49.99)
Since I like to spread the wealth around, I will pick 3 (aff) winners. (Each winner will win one of these items:  for example, one winner gets the Lowe's card; another winner the gas card; and so on and so forth.). Here's what you need to do:
MANDATORY ENTRY
Tell me what you would like to change in your garage.
EXTRA ENTRIES:
1. Twitter about this contest. I've made it super easy by adding a tweet button up by the title of this post!  You can do this daily — just leave  me a comment letting me know.
2 (aff). Stumble this post and add this post to other social media sites like Digg, Kirtsy, Blogging Zoom, Reddit, Propeller, Etc. (1 entry for each social network).
3 (aff).  Share this post on Facebook (you easily do it with the Share This Button at the bottom of this post)
4. Add this to any forums you belong too. Please give me the URL, so I can verify.
5. Comment on another post on this blog. Let me know which one, so I can give you credit.  The more posts you comment on, the more entries you get.
6.  Add this contest of contest linkies (and let me know which ones please).  Each Contest Linky gets you another entry.
Each of these gives you 5 additional entries:
1. Blog about this on your blog. Please give me the URL, so I can verify.
2 (aff). Subscribe to this blog using either my email or RSS feed
3. Add my badge to your sidebar:
4.  Subscribe via Kindle
This contest will end on February 22nd at 11:59 pm CST! Good Luck!