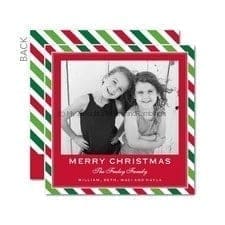 1 min read
Tiny Prints 50 Christmas or Holiday Cards Giveaway!
I adore Tiny Prints. They make awesome holiday/Christmas card (and I've used them for other occassions also). They never disappoint which is why I am completely loving the fact that I get to introduce them to you!  They literally have every kind of card you could want!
But first I need to tell you about their promotion that they are doing ONLY today.  You can receive a FREE card to your kids from Santa! Visit the Tiny Prints Facebook page to find out how to personalize one of the following greeting cards FREE: Checking It Twice or Santa's Scroll. Hurry! Offer ends 11/9/11 at 11:59 pm (PT).
Now, onto my giveaway.  If you want to win  50 Christmas or holiday cards, here's what you need to do: