Top Playmobil Toys Your Kids Will Love
I'll probably earn a few bucks if you purchase something after clicking on the links in this post. We aren't talking about enough for a mansion or yacht but more like chocolate and wine. And if I mention a product, I may have gotten a sample and possibly a cash payment. Remember that all Thoughts, Ideas, and Ramblings are 100% my own and may not represent your experience.
Embark on a journey into the enchanting realm of childhood wonder (aff) with our handpicked selection of the top Playmobil toys bound to ignite your child's imagination. In a world where play is not just a pastime but a gateway to creativity and learning, we've curated a list of the most captivating and cherished Playmobil sets. From thrilling adventures to whimsical worlds, these toys promise to be the perfect companions for your little ones. Join us as we explore the magic of Playmobil and unveil a universe where play knows no bounds.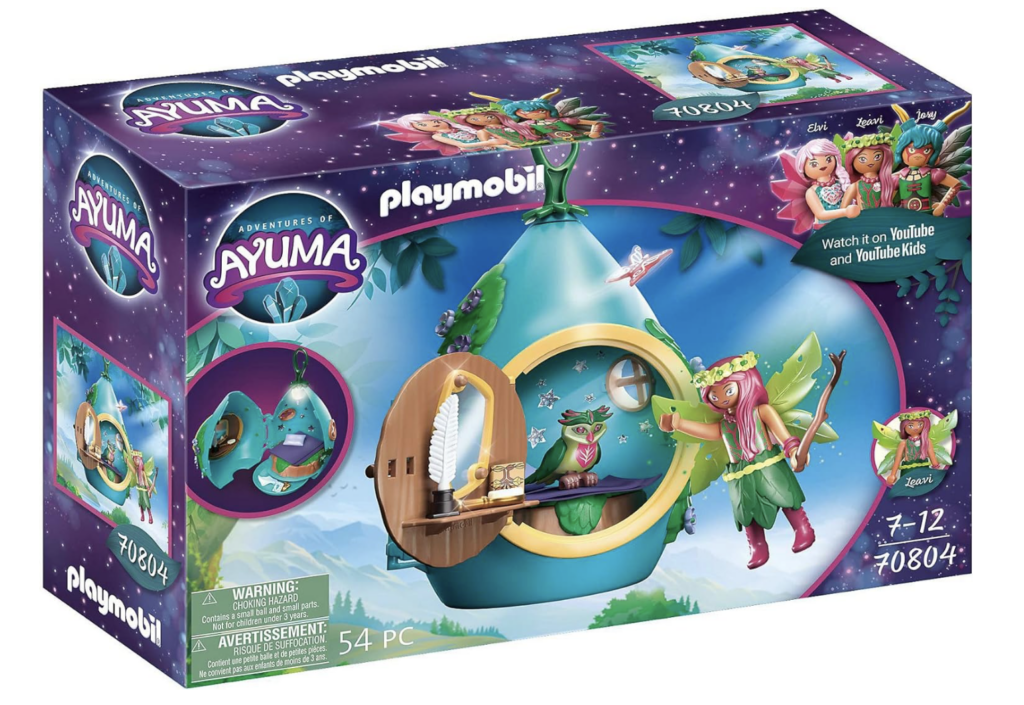 Embark on exciting adventures with the Forest Fairies, Crystal Fairies, and Knight Fairies in the Adventures of Ayuma, featuring one of the finest kids' toys! Accompanied by their loyal friends, the fairies embarked on a heroic journey alongside their soul animals. The Fairy Hut, with its round door, unfolds to reveal a snug, leafy bed and a hidden drawer storing all the fairy's accessories. Above the bed, a functional flower lantern illuminates, creating a magical ambiance. The back of the door features a mirror for the fairy to prepare for their day.
Hang the house using the provided hook from the PLAYMOBIL Fairy Community Tree or in your child's bedroom. Decorate the hut's exterior with stickers, flowers, and butterflies for an enchanting appearance. This set includes a fairy, owl, pillow, blanket, stickers, and other accessories.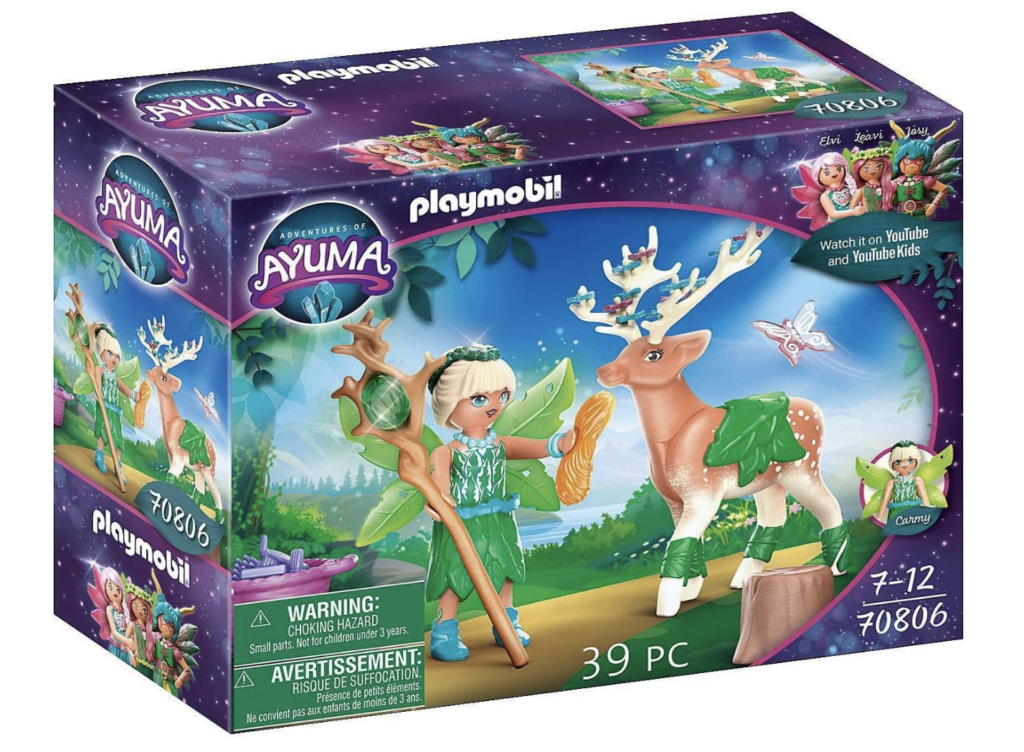 Embark on a captivating journey into the enchanting realm of Ayuma, a mesmerizing PLAYMOBIL fantasy universe brimming with fairies, friendship, magic, and adventure – truly among the finest children's toys available! Immerse yourself in the magical world of Ayuma, where fairies and their soul animals invite you to join them in an extraordinary adventure filled with wonder (aff) and joy (aff). With many playsets offering endless possibilities, Ayuma provides hours of imaginative play for kids. Explore the mystical forest alongside the Forest Fairy and her soulful companion with the Playmobil Adventures of Ayuma Forest Fairy with Soul Animal set. This fairy, renowned for her magical healing abilities, can revive ailing plants and aid injured animals. Unleash your child's creativity with this set, featuring a fairy, a deer, and a host of delightful accessories. Discover even more exciting adventures in the Ayuma universe through the captivating YouTube series available here!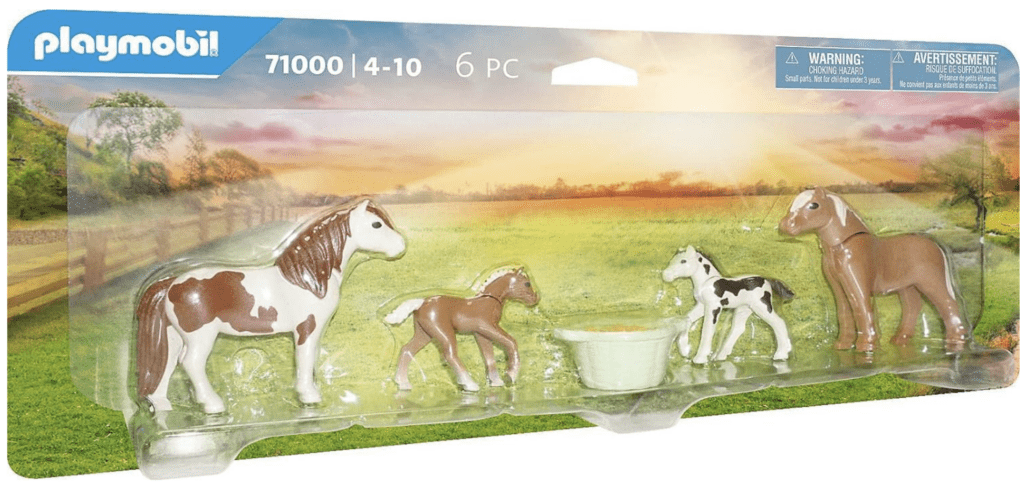 The PLAYMOBIL Icelandic Ponies With Foals is an excellent gift choice for the young horse and pony enthusiast on your list. This set features two horses, two adorable ponies, and a basket of grass, providing endless opportunities for imaginative play. Watch as the young ones learn the art of galloping across the field from the adult horses while the caretaker ensures the basket is filled with nourishing feed for the horses to enjoy.
Whether played independently or integrated into the larger PLAYMOBIL Pony Farm world, this set promises hours of entertainment and creative exploration for the little horse lover in your life!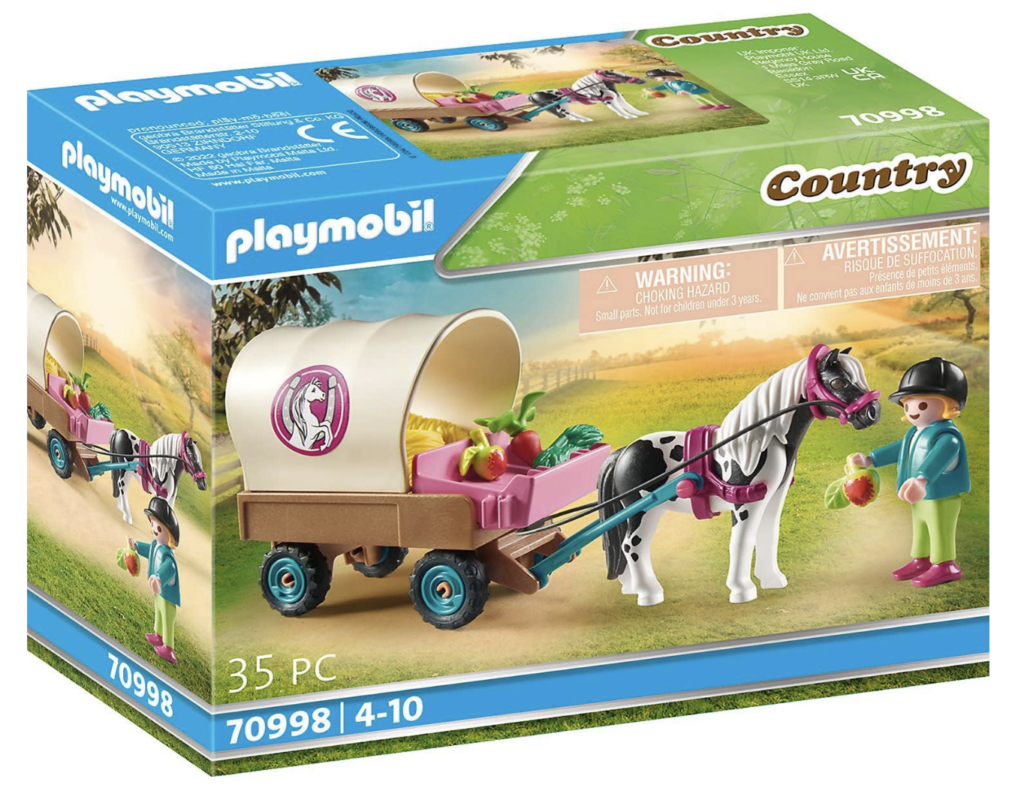 Discover the ideal gift for kids passionate about horses, such as the PLAYMOBIL Pony Wagon. Let your little ones embark on a delightful Pony Wagon adventure! Load the wagon with treats for the girl and her pony, then watch as she climbs into the coach seat, taking hold of the reins for an exciting journey. The wagon's removable cover simplifies the loading and unloading of supplies from its ample storage space. Should the horse spot fresh grass, quickly remove the holster, allowing the pony to graze freely. Whether enjoyed independently or added to the complete PLAYMOBIL Riding Lessons collection, this set promises extended hours of horse-themed enjoyment. The set includes one figure, a pony, a wagon, feed, a riding helmet, apples, and various other accessories.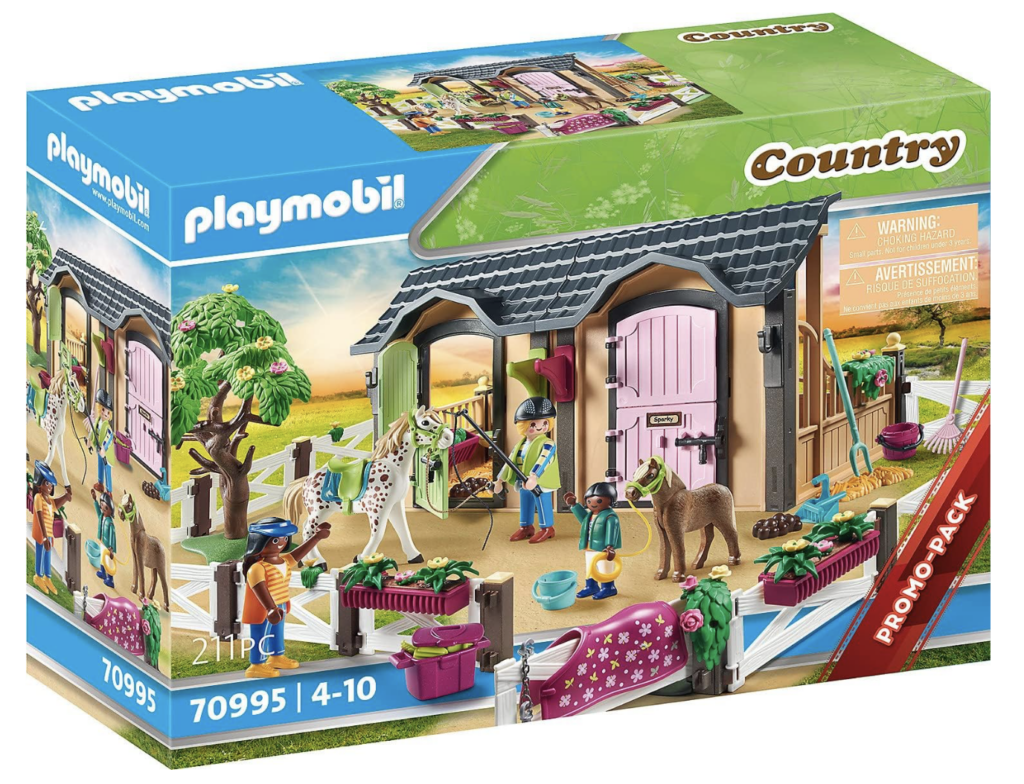 Embark on thrilling adventures with the all-new Horseback Riding Lessons, a fantastic set that makes the perfect birthday gift idea! This set features two meticulously crafted stalls with everything needed to teach beginners the art of riding. The spacious stalls offer ample room for horses and their accessories, creating a beautifully designed equestrian-themed gift that lets imaginations run wild. Watch your little ones 'train,' ride, and groom the horses, transforming their room into a hub of equine excitement!
The fenced-in yard provides generous space for lessons with both the horse and pony. This allows riders to master the art of maneuvering their new friends. After the lessons conclude, they can easily remove the horse's saddle and bridle, hanging them up neatly in the stall. Whether played independently or integrated into the broader PLAYMOBIL Riding Lessons theme, this set ensures endless hours of horse-centric play. It's the perfect birthday gift for young horse enthusiasts who dream of a pony every year. Seize the reins for an imaginative and fun-filled experience!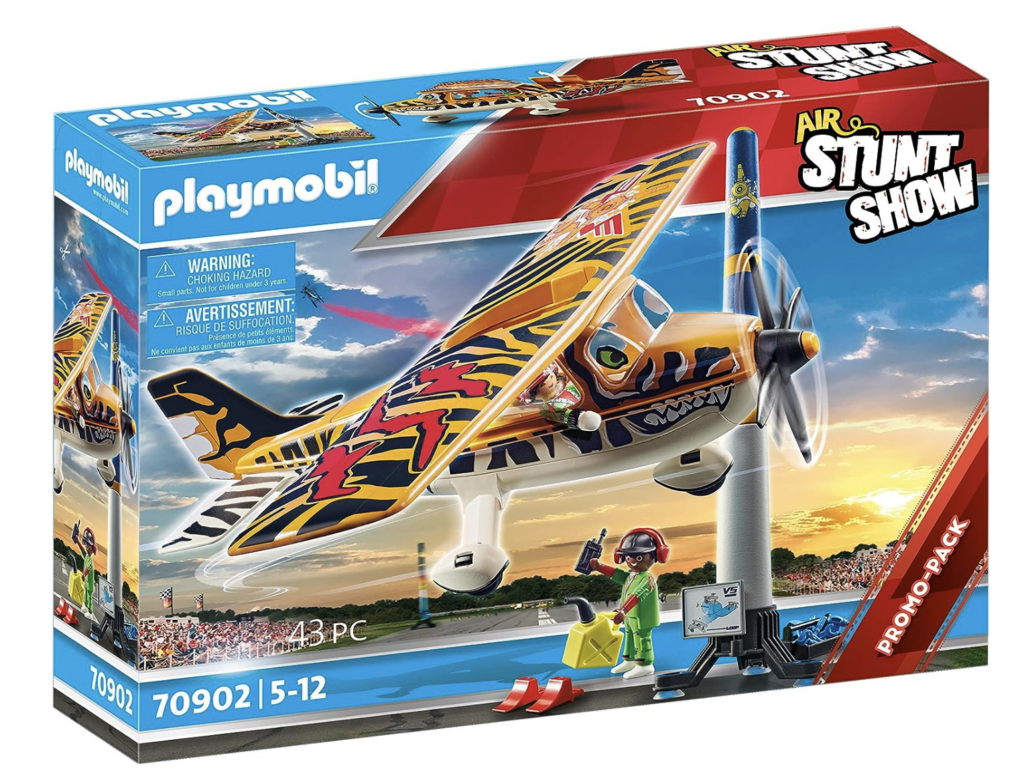 Spectators from near and far come to watch the Air Stunt Show Tiger Propeller Plane soar through the air! The tiger-striped design is fascinating to watch as it dives through the clouds. The pilot displays his skills as he flies around the tall towers with incredible precision and effortlessly performs daring flight maneuvers at dazzling heights. From the ground, the mechanic monitors the show and is already preparing to inspect the plane after landing. The aircraft can seat two figures and contains a storage compartment in the tailgate. The set includes two figures: a propeller plane with a rotating propeller, a gas can, a tower with suction feet to secure the surface, flight gear, and other accessories.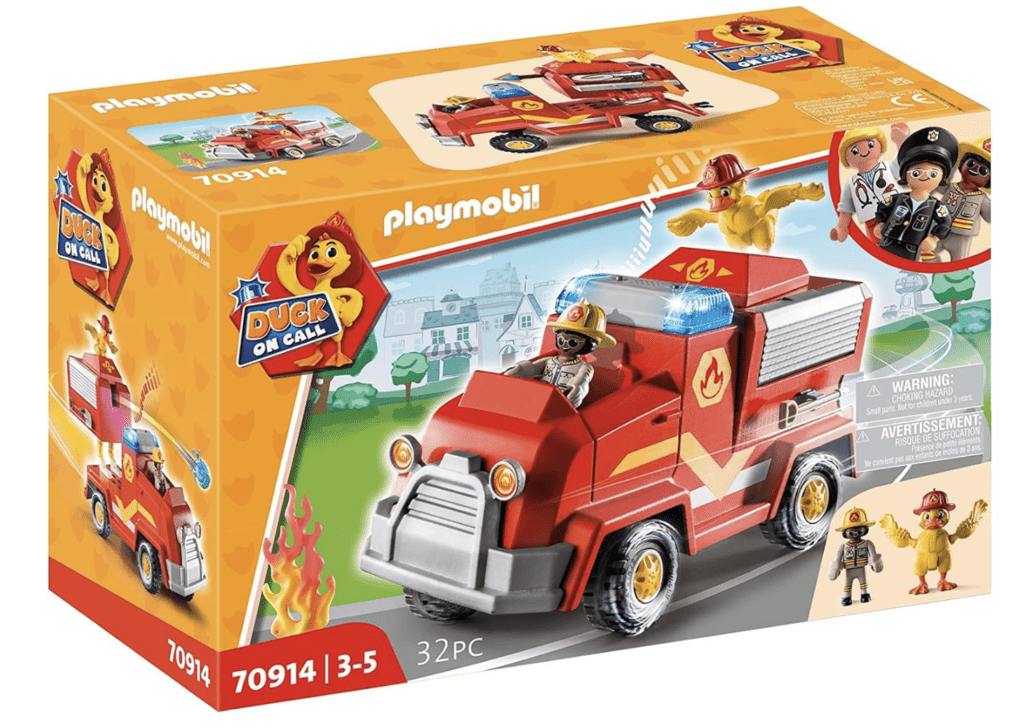 Duck on Call is a bright and beautiful preschool line! Join Ducklas on his adventures to return to a human boy after being turned into a duck due to his shenanigans. Ducklas is accompanied by his friends Mikey Medic, Polly Police, and Freddy Fire. Together, they travel in their vehicles to help the town's citizens.
Playmobil toys offer imaginative play that captivates children's hearts and minds. From thrilling adventures on the high seas to epic (aff) battles in medieval castles, the diverse range of Playmobil sets sparks creativity and encourages storytelling. These top Playmobil toys provide hours of entertainment. They also contribute to developing essential skills such as problem-solving, social interaction, and fine motor skills. Witnessing our children immersed in the universe of Playmobil is a testament to these toys' enduring appeal and educational value. Whether it's fostering teamwork among siblings or sparking solo adventures, the joy (aff) these toys bring is a lifetime gift. With Playmobil, watch your child's imagination take flight in a world of endless possibilities.