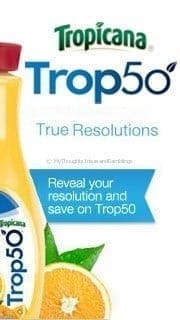 3 mins read
Trop50 True Resolutions – $25 Giveaway!
With 2011 coming to a close, it is time to get ready to get real in 2012 starting with your real New Year Resolutions. I know I have several myself!
One of my New Years Resolutions will be to lose weight. Not only do I have my brother in laws wedding in September, but I want to do it for me. Through some networking I've done in 2011, I had an opportunity I couldn't turn down happen to help make this goal happen for me (I know, not a lot of information there, but there will definitely be some blog posts in the future describing exactly what this all means!). I am setting myself up for success this year!
Another resolution we have as a family is to save money. I swear everything broke down in 2011. I had to replace the tires on both our vehicles and my van had several costly repairs. We still don't have the air working yet in there either. The house also probably needs a new central air unit too. (That money will be coming out of our tax return). We are hoping that all the big expenses are out of the way and we can start saving more. In the fall, we'll have 2 (aff) kids in Catholic school, so we need every cent!
Another resolution will be to travel more! Bill and I are in the process of planning a trip to New York (and yes, we are driving 12 – 14 hours with two kids. Please, remind me why this is a good idea!!!).
Trop50 True Resolutions
 celebrates the real reasons behind New Year's resolutions. Share your secret motivation behind your resolutions and you'll earn a coupon for $1 off Trop50 for yourself and 50¢ off coupons for up to 50 of your friends! You can even submit incognito with a fierce disguise. Bonus: Whether you submit a resolution or not, you can also enter a sweepstakes to win a $1000 gift card.  The best part is that my family loves Trop50!  Tropicana Trop50 offers fruit juice goodness with 50 percent less sugar and calories, and no artificial sweeteners.  Best of all, it tastes great!
Now, since I love Trop50 and it's New Year's Eve, I have arranged for 1 of my readers to win a $25 Visa Gift card.  I have also arranged for 5 other readers to win a coupon for free Trop50 (each coupon = one free bottle of Trop50).  Here's what you need to do: