Why should you buy Farmland products? There are several reasons that Farmland's ham, bacon, and sausage should be on your table including that all Farmland products are products of the USA and are free of hormones and MSG.
High Quality Foods
Since 1959, Farmland has been passionate about making high-quality foods, working alongside American farm families to offer the best quality products such as bacon, ham, and sausage. They allow you to make excellent recipes like this Bacon Loaded Hand Pie. (Note: You can add as little or as much bacon as you want to this recipe. It all depends on how much you love Farmland Bacon!)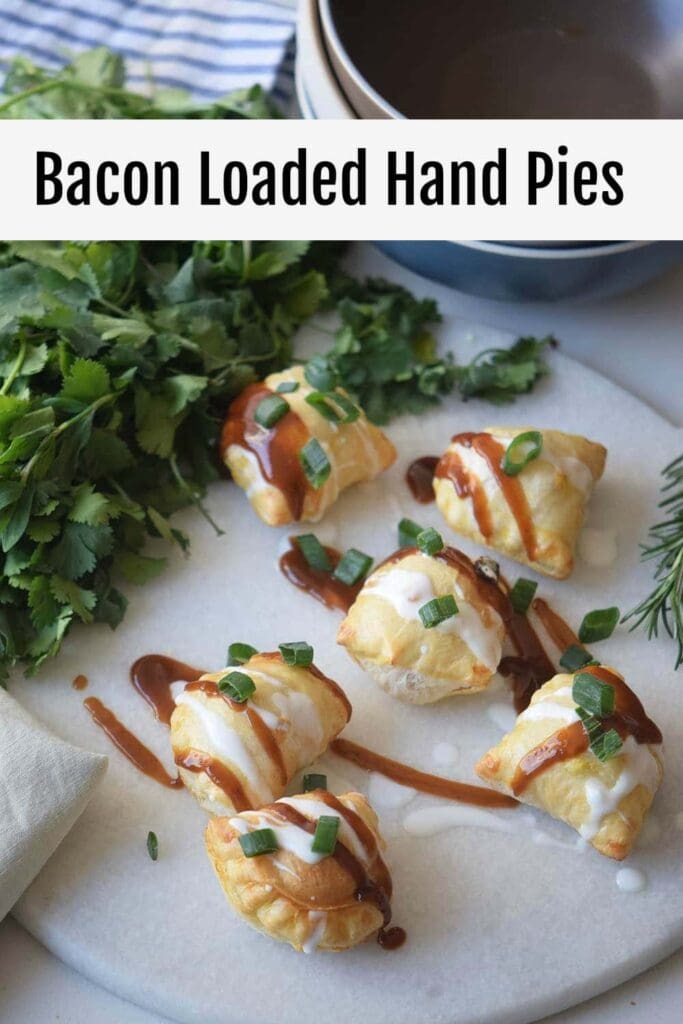 Bacon Loaded Hand Pie
Ingredients
2

Cups

flour

¼

Cup

milk

½

Butter stick

1

Egg

¼

Cup

sunflower oil

Pinch

salt

1/4

lb

Farmland bacon, cooked and sliced into small pieces

¾

Cup

cream cheese

1

Tbsp

chopped chives

Alfredo sauce and honey drizzles
Instructions
Preheat oven to 350F and prepare a baking pan with cooking spray.

In a food processor mix the flour, sunflower oil, butter, egg, milk, and salt. Pulse until a round dough it's formed.

Transfer the dough to a floured and flat surface to knead until it becomes sticky (about 4 minutes).

Place the dough in a bowl, cover with plastic wrap, and refrigerate for 1 hour.

In a bowl combine the bacon and the cream cheese.

Remove the dough from the fridge.

Cut the dough into small pieces, use a rolling pin to make a thin layer, and cut with a cookie cutter to make rounds.

Place 1 tbsp of the filling on the center, and fold the dough over the filling, seal the edges using a fork.

Place the loaded pies in the baking pan and transfer to the oven. Bake for 30 – 40 minutes or until golden.

Remove from the oven, drizzle Alfredo sauce and honey over them. Top with chive, serve, and enjoy.
Partnership With The National FFA Organization
Farmland is a proud partner with the National FFA Organization, formerly known as Future Farmers of America, to support the future of agriculture. With every Farmland item purchased now through September 30, 2017, Farmland will donate $0.10 to FFA, up to $75,000. These donations will help FFA continue to further its mission of making a positive difference in the lives of students and shine a light on the agricultural industry.
Grants
In addition to the donation I talked about above, Farmland will provide grants to select Midwestern FFA chapters later this year, providing financial support to high school students working on animal care projects.
As you can see, there are so many reason to buy Farmland products. The participating Farmland products include everything from Farmland bacon and breakfast sausage to boneless ham and lunch meats, so you can make that bacon loaded hand pie recipe up above. For more information on Farmland, and how to donate, please visit FarmlandFoods.com, Facebook.com/FarmlandFoods or @FarmlandFoods. Support the Future Farmers of America by going to Jewel-Osco and purchasing Farmland products now through Sept. 30, 2017.
Which Farmland products will you be serving on your table?